Shaping Tomorrow's Contact Center
Research on Market Trends and Challenges
Contact centers identify having an efficient technological platform as their biggest challenge in the near future


Unified management of communication channels (such as voice, email, chat, social media) is a reality for just 47%

Social media accounts for only 2% of interactions in the contact center

Cloud solutions are in use in only 15% of contact centers surveyed.

These are some of the main findings of a report commissioned by Altitude Software to identify trends shaping tomorrow's contact center.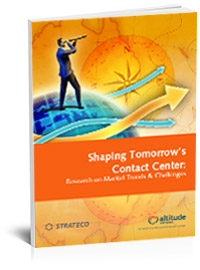 Developed by STRATECO, an independent consulting firm, the report is based on telephone interviews with decision-makers in more than 100 contact centers all over Germany.
Get the latest information about the industry and an analysis of current trends and developments concerning technology, communication channels and business processes in the largest contact center market in the Eurozone.
Fill out the form and click to download the free Report - "Shaping Tomorrow's Contact Center: Research on Market Trends & Challenges"
Get an insight on the main trends affecting the contact center industry in the near future!
Note: Survey also available in German.