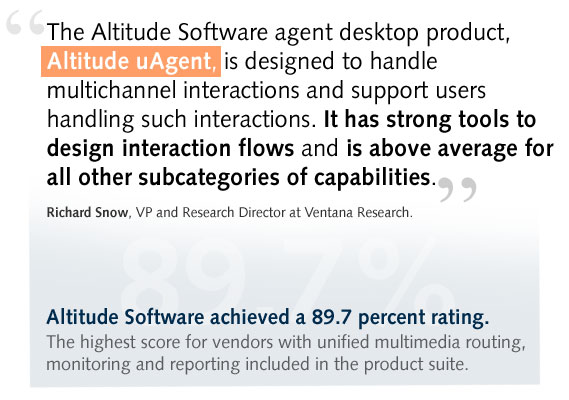 The Value Index from Ventana Research has queried real users in the market place for their requirements, and examines the maturity of software vendors and their products on seven categories: usability, reliability, manageability, adaptability and capability of the products, as well as the customer assurance areas of validation, TCO and ROI.
A top rated agent desktop such as Altitude uAgent is a multimedia desktop application that empowers agents to process business tasks in real time with customers, while controlling phone, email, chat, Facebook, video, etc.
It includes powerful features that increase customer engagement, like:
Drag & Drop GUI Customization;
Browser and Rich Client in a single creation;
Embedded Softphone;
Single Sign On- in integration with Active Directory;
Intelligent Context;
Customer History;
Knowledge Management;
Change Management;
Embedding Intranets and 3rd party applications;
Open Integration.
Unified agent desktops are powerful tools to increase efficiency and effectiveness in all aspects of customer interaction handling and management.